Welcome, webinar lovers or enthusiasts, to a blog where we walk you through the great webinar examples that can transform your online teaching experience. So, it's time to delve into the world of webinars and explore how different industries have taken benefit of this emerging medium to reach their audience and grow their businesses.
With so many popular webinars, it becomes challenging to choose a webinar with the best speakers, share the latest information, and keep the audience engaged from start to end on a particular topic.
To simplify your task, we've scoured the web to provide you with a list of the 10 most popular webinar examples. 
Hubspot:

Best Webinar on Sales & Marketing

Social Media Examiner:

Best Webinar on Social Media Marketing

Adobe:

Best Webinar on Graphic Design & Video Editing

Content Marketing Institute:

Best Webinar on Content Marketing

Realtor:

Best Webinar for Real Estate Enthusiasts

SEMrush:

Best Webinar for Online Marketing

BigCommerce:

Best Webinar on eCommerce Industry

Modern Healthcare:

Best Webinar on Healthcare Industry

TrekkSoft –

Best Webinar for Travel Industry

Edsurge – Best Webinar on Education
Now, let's check out the webinar samples that have transformed businesses, inspired individuals, and built long-lasting connections in an era where the world requires meaningful engagement.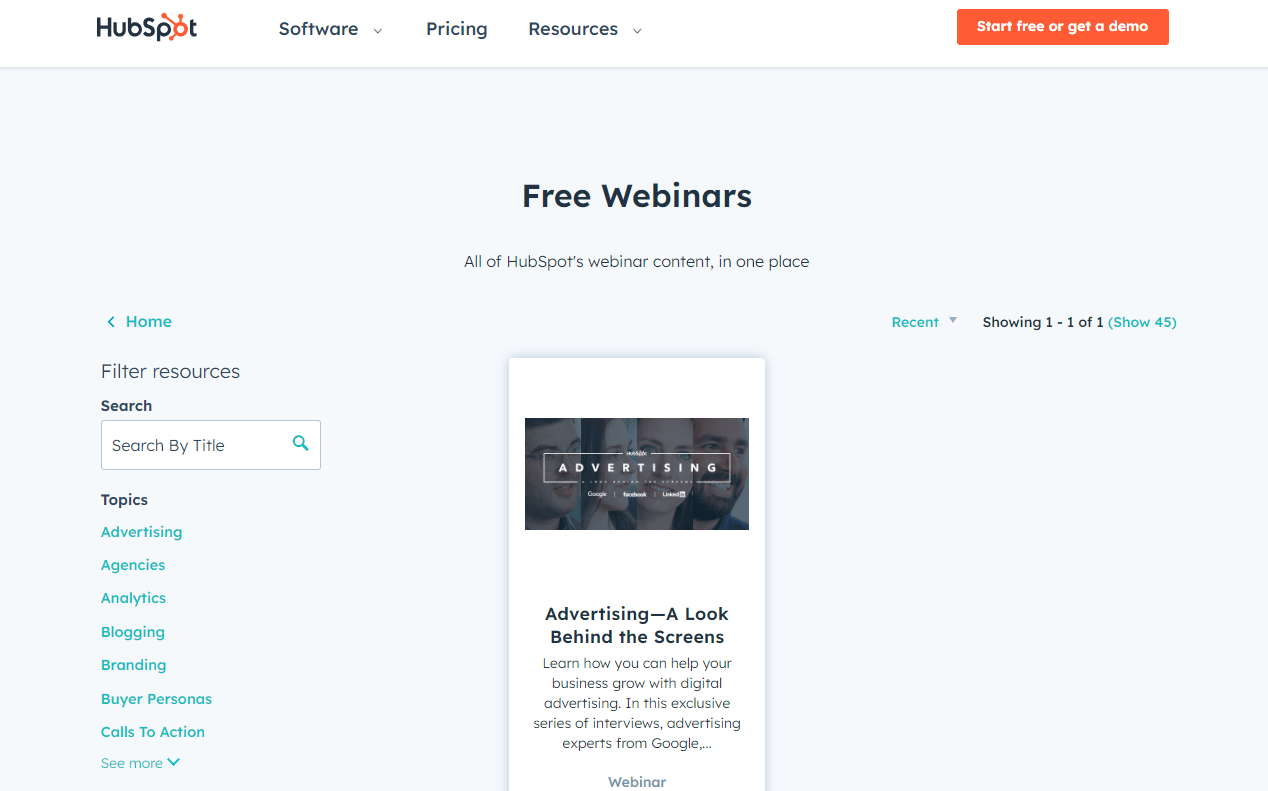 Hubspot is one of the most popular free CRM that helps businesses to streamline operations related to sales, customer support, and marketing.
Hubspot has been hosting webinars widely on sales & marketing for a long time. Growth Better is one of the best webinar series by Hubspot. In this series, there is a range of webinars related to marketing, sales, and customer services strategies to help businesses of any size to learn new things & grow.
So, it doesn't matter which business you are; if you are stuck in marketing, check out the webinar sample by Hubspot.

What are the key factors behind its success?
The webinars offer enhanced and practical strategies businesses can implement to improve their sales, marketing, and customer service.

The Growth Better series has highly interactive and engaging videos.

Along with the series, you also get a chance to leverage all the premium tools offered by Hubspot.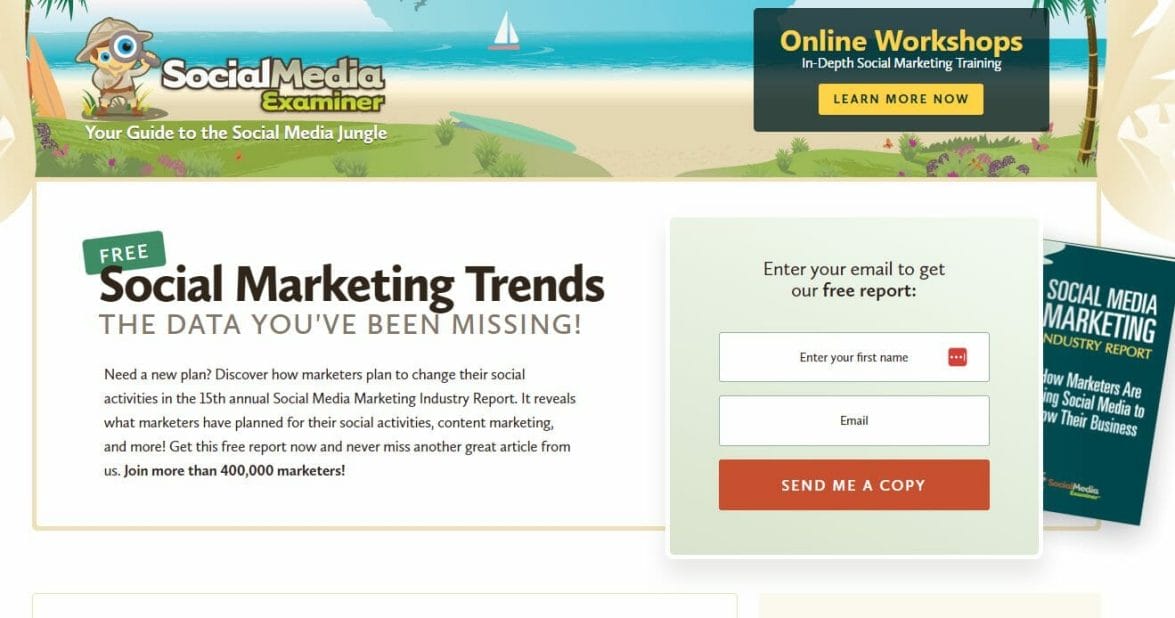 Social media examiner is a U.S.-based media company that conducts webinars on social media marketing to help businesses to connect with their customers, generate awareness, and increase sales.
They conduct sessions of 2 hours regularly on different social media platforms like Facebook, Instagram, Twitter, etc. The primary purpose behind these webinars is to help businesses improve their leads, conversions, and sales.
Apart from the webinars, they conduct the "Social Media Marketing World" conference every year, where the world's top experts discuss the most recent social media marketing strategies. 
What are the key factors behind its success?
The webinar has been popular as experts from the industry share their mistakes, experiments, and successes they have gathered in the social media marketing industry.

Experts share no-fluff practical marketing strategies they have implemented on multiple businesses and helped them grow.

They conduct webinars or workshops for 2 continuous weeks a year. They invite the best speakers from multiple businesses. Moreover, they provide playback options to the users.
Adobe is a multinational company that is popular for its multimedia and creative software products. It is one of the great webinar examples when it comes to graphic design, video editing, and content creation. The company conducts the best webinars on different topics. These include webinars on 3D design, cloud-based workflows, AR experiences, 3D pro tips, and more.
Adobe's "Create and Collaborate" series is top-rated. The webinar series is conducted by industry-led Adobe experts and targeted at beginner and experienced designers. They share deep insights and best practices they follow when it comes to designing.
What are the key factors behind its success?
Designers get an excellent opportunity to learn the latest tips, tricks, and strategies from experts.

The webinar educates the users on collaboration and communication skills.

It is popular because users get knowledge of the best Adobe products.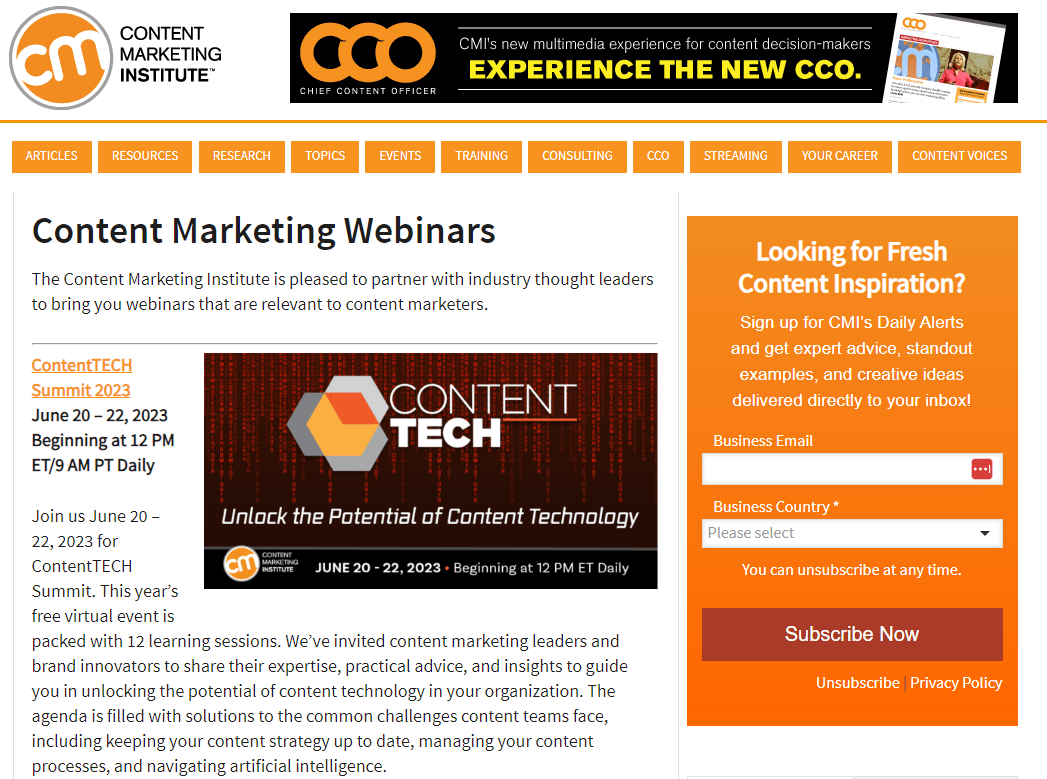 Content Marketing Institute is a well-known resource for content marketing education, training, and insights. Their main purpose is to deliver practical advice on content marketing via online education and in-person and digital events.
CMI is one of the famous examples of webinars for people involved in the content marketing industry. They share insights on what leading companies do regarding content marketing, advertising, and related things through their webinars.
What are the key factors behind the success?
The company is successful because it believes in fostering a vibrant and engaged community of content marketers. It not only conducts webinars from experts but also various conferences and events.

They are constantly building high-quality content around the latest trends, insights, and more in the content marketing industry.

CMI conducts webinars in different time slots to ensure that people from multiple time zones can attend them effectively.

They use newsletters, social media channels, and

email marketing to promote their webinars

. 

CMI offers post-webinar resources like handouts, summaries, blogs, etc., to ensure attendees get more information about the topic

Realtor.com is one of the most popular real estate listing websites based in California, USA. The site is especially meant for buying, selling, or renting properties. It has more than 100 million monthly active users. 
They have been doing live webinars on various topics like marketing, lead conversion, video, social media, etc., for all real estate enthusiasts. 
What are the key factors behind the success of Realtor.com?
They conduct sessions on real estate from leading industry experts.

All the sessions are highly interactive, including polls, surveys, chats, etc.

They have been doing sessions on timings that cater to most people's needs worldwide.
SEMrush is a comprehensive online marketing tool that professionals and businesses leverage for digital marketing. The tool is widely used for search engine optimization, pay-per-click (PPC), social media management, etc.
If you want to start a webinar on anything related to online marketing, take inspiration from SEMrush's "Online Marketing Webinars ."In these webinars, top industry experts discuss the best practices, insights, and tricks related to content marketing, social media marketing, and search engine optimization.
The best thing about these webinars is that they are entirely free, and you can view them at your convenience.
What are the key factors behind the success?
The company conducts highly-interactive webinars by introducing chat, polls, surveys, Q&As, and more.

Industry leaders and experts share their opinions, perspectives, and expertise regarding online marketing.

They also provide attendees with comprehensive information and tools to ensure they apply what they have learned until now.

Webinars are free. Hence, people interested in online marketing from around the world attend these sessions.



Do you have knowledge of eCommerce and would love to share it with your audience? Then take inspiration from BigCommerce, one of the most well-known eCommerce platforms that offer software as a service to retailers and merchants in around 150 countries.
BigCommerce conducts informative webinars on a range of topics like sales, the future of commerce, Instagram conversion, omnichannel insights, business resilience, etc.
What are the key factors behind its success?
They deliver high-quality webinars in different fields such as promotions, running ads, social media, and more that are useful for any small to big eCommerce business.

BigCommerce conducts the majority of webinars free of cost. Hence, anyone belonging to the eCommerce industry or wanting to enter into this industry can look at the strategy of BigCommerce.

The company also offers a range of on-demand webinars that you can watch instantly on their website and improve your skills.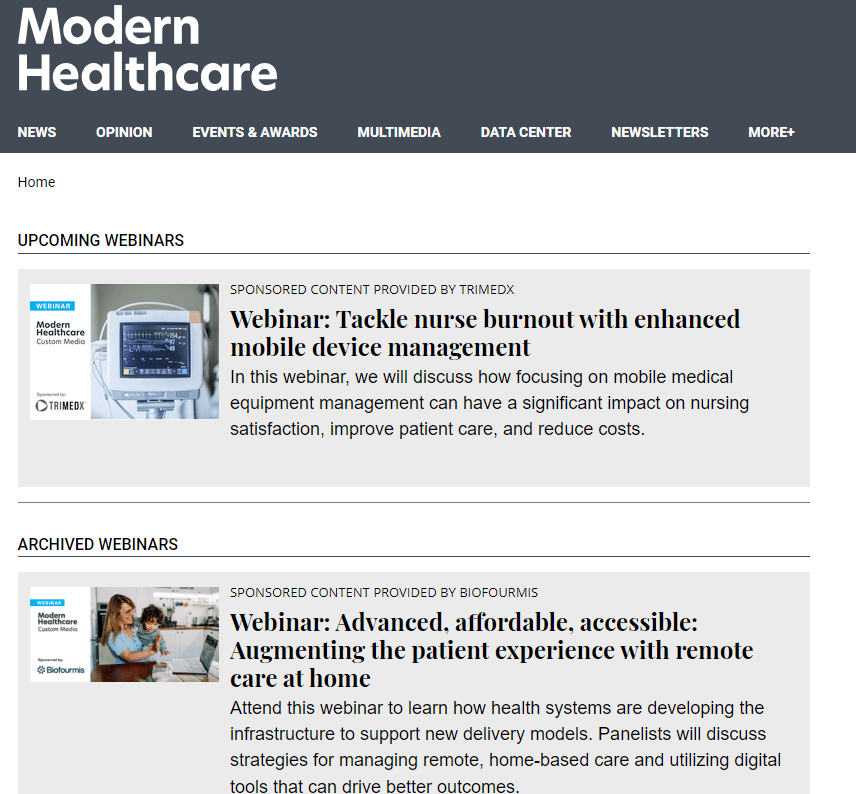 Modern healthcare is a well-known source of healthcare business, policy news, research & information. They not only conduct webinars but also publish content via print magazines, websites, e-newsletters, and mobile products.
They deliver a range of webinars that help everyone involved in the healthcare industry. Moreover, all the people who want to enter the healthcare industry can take benefit from these webinars.
What are the key factors behind its success?
Healthcare experts provide helpful insights and share their experiences and the most recent trends & research.

They implement some of the most interactive features into the webinars, such as live chat, polls & surveys, Q&A, etc., to improve engagement throughout the webinar.

Various businesses have leveraged the information from the webinar to make effective decisions and succeed.

It is one of the best travel booking software that anyone can integrate into their travel website. The software enables users to present all products, promote products, offer discounts, and approve payments.
The company has been conducting webinars to help all the businesses involved in the tour or travel industry to understand the latest trends and grow like never before. 
What are the key factors behind their success?
They present highly-skilled speakers with enough travel industry experience to talk about the latest trends and topics.

The company conducts webinars on multiple subjects like revenue management, the future of travel booking, business management, and more. 

TrekkSoft offers all the webinars in recorded format for anyone to watch anytime for free.

They also deliver free tools & resources that help any travel business to work efficiently.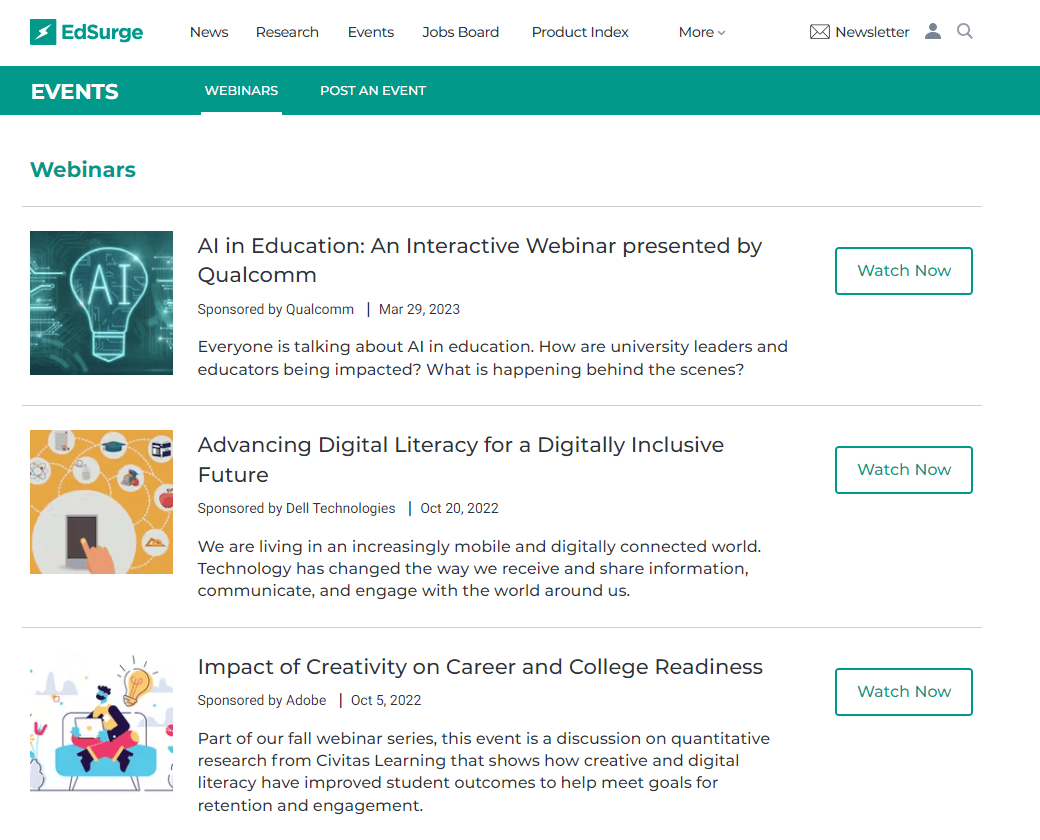 EdSurge is basically an education journalism program started by the International Society for Technology in Education. It is an online platform that provides the latest insights, resources, and information on everything around the education sector. Initially, they delivered articles, research reports, guides, and more. 
EdSurge started conducting webinars in 2017. Since then, they have been offering webinars on unique topics that are beneficial for educators, professionals, administrators, and other people involved in the education industry.
What are the key factors behind their success?
The platform conducts webinars on the most popular and advanced topics like a digital library, social-emotional learning, data-driven instruction, educational reforms, Edtech product reviews, and more.

EdSurge partners with experts, intellectuals, and practitioners from the education field to offer valuable insights, practical tips, strategies, and more.

They also provide webinars on-demand. Anyone who cannot attend the webinar for any reason can attend it anytime at their convenience.

They conduct

interactive webinars

using chat, presentations, panel discussions, polls, quizzes, and more.
Final Thoughts
In the end, webinars are invaluable mediums for businesses and small to big organizations to reach out to their audience and provide essential information. The examples we shared provide the use of live webinars or automated webinars according to their lead generation goals. They utilize interactive elements like Chats, Q&A, Polls & Surveys, and CTAs to collect important insights from the attendees using their preferred webinar platform. WerbinarPress is one such webinar WordPress plugin that provides all the above-mentioned features. Good Luck!