In this era of virtual communication, webinars have been regarded as an excellent source for sharing knowledge, scheduling learning sessions, connecting with potential audiences, and increasing engagement. It has become an effective marketing channel to increase sales. However, to ensure the success of your webinar, you require the right set of accessories, such as cameras, lighting, and microphones. Out of all, a high-quality microphone is the most crucial, as it delivers clear and crisp audio and keeps your audience engaged throughout the session.
We have researched and found some of the most used and successful webinar microphones. In this blog, we will walk you through the list of the best mic for webinars, along with its features and pricing. 
But before we look into the list, it's essential to understand the types of microphones for webinars.
Types of Microphones
Here are some of the types of microphones used in webinars.
It is an industry-standard professional-grade microphone built especially for audio applications and webinars. It is a 3-in-1 cable, and most of the devices on the studio, home, or stage connect via it. 
As XLR is an analog connector, you will require an audio interface or a mixer to connect with the desktop or smartphone to do recordings. The best thing about the XLR mic is that it offers better control over the sound.
Besides this, the XLR microphone offers more versatility by allowing you to connect it with different microphones like dynamic, condenser, ribbon, etc.
As the name suggests, USB is a plug-and-play microphone that you can instantly connect to your computer or any other device through a USB port. The USB microphone is widely utilized because of its ease of use, convenience, and portability. 
Even though you won't have control over the sound quality when we consider USBs, they tend to deliver high-quality performance regarding frequency response, sensitivity, and noise cancellation.
The main drawback of the USB is that you can't upgrade the device's capabilities. The USB is also prone to background noise and offers depending on the processing power of the device it is connected with.
Hands-free Desktop Microphone
A hands-free desktop microphone is primarily meant to help you capture audio and share it online without any need to hold or handle it manually. It is beneficial for people who work in a quiet environment and don't like to wear a device over their heads constantly.
The main advantage of this microphone is high comfort and convenience. It has been designed to provide a top-quality audio experience. 
The major drawback of the hands-free desktop microphone is background noise and limited range.
5 Best Microphones for Webinars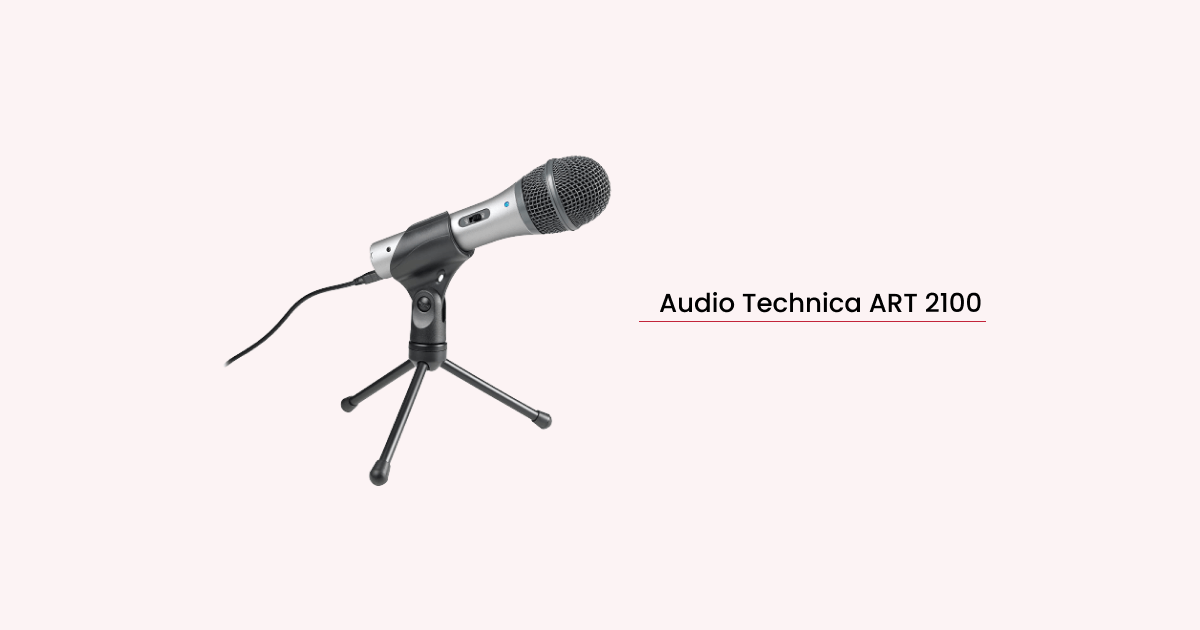 Audio-Technica ATR 2100 is one of the best webinar microphones. The microphone is quick to connect and offers excellent sound quality. 
The microphone comes with a USB and XLR cable, which you can utilize to connect to the computer or any other suitable device. It also has a built-in headphone jack that you can leverage to adjust the volume.
The best thing about this microphone is that it comes with a unidirectional pattern that helps you record music even if you don't have a soundproof room. It also possesses a cardioid polar pattern that reduces the sound from the sides and rear. In addition, the low-mass diaphragm offers enhanced frequency response.
Lastly, the microphone is compatible with Windows and Mac.
Connectivity: USB digital output and XLR analog output.
Frequency Response: 50 – 15 kHz
Pricing: $79.95 
What is it Best for?
The microphone is best suited for anyone looking forward to a live performance. It is also suitable for podcasting, home studio recording, field recording, and voiceover. 
Purchase:  AUDIO TECHNICA ART 2100 
Shure SM7B Cardioid Dynamic Microphone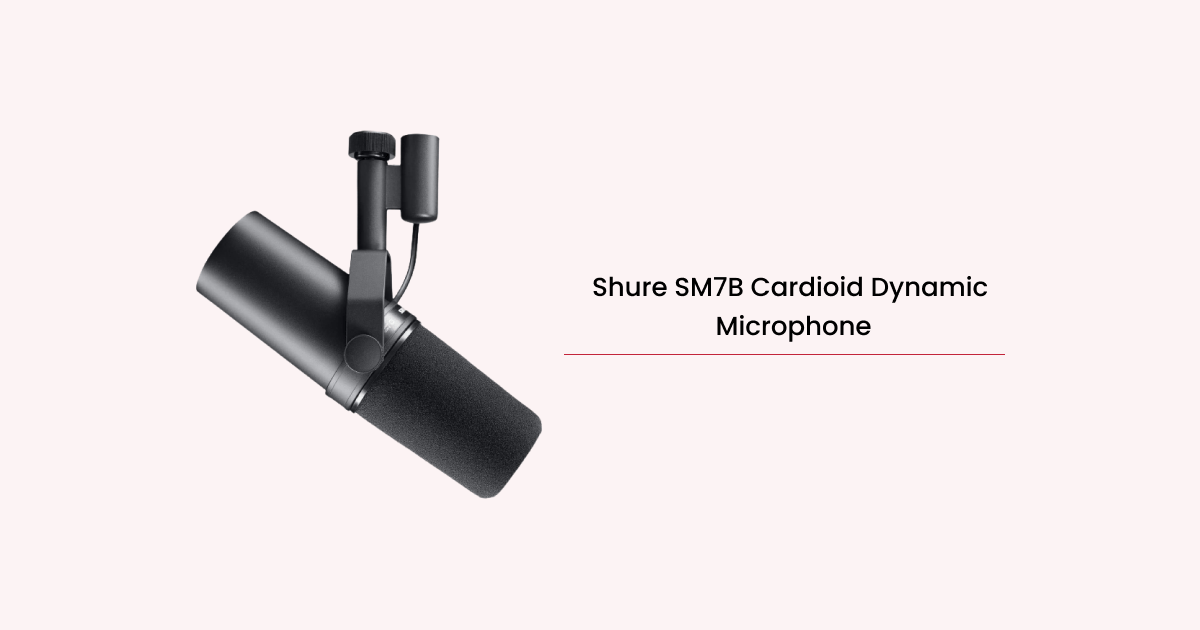 If budget is not an issue and you want a mic that offers a best-in-class audio-quality experience, then Shure's SM7B is a go-to option. It is specially designed for singers, musicians, and creators. 
Due to flat and higher frequency coverage, the microphone provides a clean and natural reproduction for producing music and speech. Hence, it can be considered a popular microphone for webinars besides podcasting, recording, etc.
The microphone has an internal "air suspension," which removes any mechanical noise transmission. It also has a pop filter which eradicates any requirement for add-on protection. Hence, you can speak up close to the microphone for vocals or any video narration.
Besides this, yoke mounting helps you to mount or dismount for complete control over the microphone position. 
Connectivity: Wired XLR
Frequency Response: 50 Hz to 20 kHz
Pricing: $399 
What is it Best for?
The mic is mainly suited for top-quality audio recording, musicians, and online music teachers.
Purchase:  SHURE SM7B CARDIOID DYNAMIC MICROPHONE
If you are looking for an Audio Technica alternative with some additional features, Blue Yeti USB MIC is a good option. It is one of the most popular webinar microphones due to its range of pattern modes. 
This microphone comes with a three-capsule array technology that lets you switch patterns (Cardioid, Omni, Figure 8, Stereo) for precise, robust, broadcast-quality audio during YouTube, streaming, podcasting, calls, etc.
The mic has studio controls like headphone volume adjustment, instant mute, and microphone gain.
The audio controls let you record excellent-quality audio. Hence, the microphone is an absolute choice for creators who want to sell their music online or connect high-quality audio to the computer.
Connectivity: Wired USB
Frequency Response: 20 Hz to 20 kHz
Pricing: $89.99
What is it Best for?
The microphone is best for anyone that wants to do online teaching through audio or wants to create an audio-only course.
Purchase: BLUE YETI USB MIC
Blue Snowball iCE USB Condenser Microphone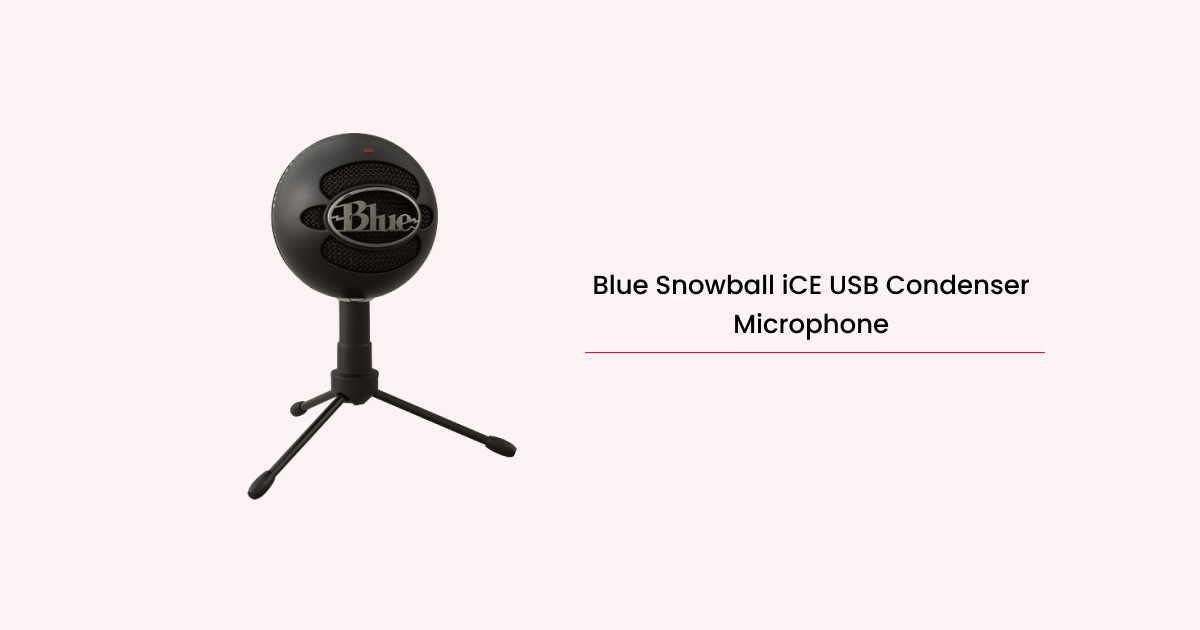 If you are looking for a budget-friendly mic for webinars and great features, the Blue Snowball iCE USB microphone is an excellent choice. The microphone is backed up by a custom condenser capsule, which tends to deliver high-quality audio compared to the standard built-in microphone.
The microphone is small & portable, and you can easily connect with the USB port on your Mac or PC without any driver installation. It has a cardioid pickup pattern which helps you to capture a clear voice when it comes to streaming, podcasting, broadcasting, Skype calls, and Zoom meetings.
The microphone has a classic retro design, and it comes with a built-in adjustable desktop stand that lets you place the microphone as per the sound source, thus enhancing the audio quality and improving the overall space of your desktop setup.
Connectivity: Wired USB
Frequency Response: 40Hz to 18kHz
Pricing: $39.99
What is it Best for?
It is favorable for people looking forward to using a mic in and outside the office or studio. It is also great for anyone that wants to pre-record a webinar or prepare online course content.
Purchase: BLUE SNOWBALL ICE USB CONDENSER MICROPHONE 
Rode Wireless Go Wireless Microphone System
If you are looking for a non-desktop wireless setup, then Rode Wireless Go is a great option. It is an ultra-compact wireless microphone system with an earphone, a built-in transmitter, and a receiver. It works in the same way as the Lavalier and external recorder. 
You can utilize the wireless transmitter in two ways:
Clip it on a Lavalier microphone & send a clear audio transmission.

Leverage the inherent condenser capsule with the mic itself.
The receiver is tiny, and you can place it on the camera or the GoPro.
Some great things about the mic are that it is super easy to connect, has built-in rechargeable batteries which last for 7 days, and works under an optimized range of 70m.
Connectivity: USB
Frequency Response: 50Hz to 20kHz
Pricing: $269.99
What is it Best for?
The microphone is suitable for anyone who moves more when instructing and looking for a portable wireless system. These include filmmakers, online tutors, vloggers, presenters, news gatherers, etc.
Purchase: RODE WIRELESS GO WIRELESS MICROPHONE SYSTEM
Conclusion
The selection of the microphone depends heavily based on the environment, your content, and your budget. However, selecting the right microphone will help you to send the right message to the audience and keep them engaged throughout the webinar. It also allows you to conduct insightful and engaging webinars according to the audience's needs for a long time.
FAQs
What Factors to Consider When Choosing a Microphone?
Here are some essential factors you should consider before choosing a mic for webinars.
Audio Quality

Connectivity

Microphone Type

Noise Cancellation

Portability & Convenience

Budget 

User Reviews & Ratings

What is the importance of a good microphone for webinars?
A good microphone is proper in webinars due to the following reasons:
Sound Quality

Professionalism

Accessibility

Engagement & Retention

Recording

Should I opt for a USB microphone or an XLR microphone for webinars?
The selection between the USB and XLR microphone for the webinar depends heavily on personal needs and budget. If you want a quick-to-setup, portable, and affordable option, then a USB microphone is suitable for webinars. On the contrary, if you are looking for high audio quality, advanced features, and flexibility, an XLR microphone is your go-to option.